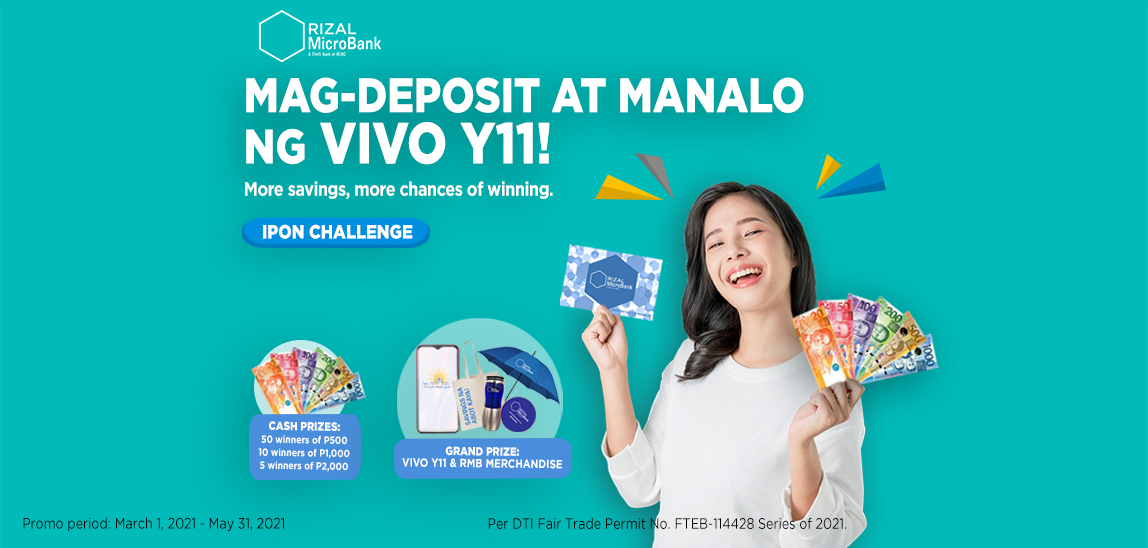 IPON CHALLENGE PROMO 
The Ipon Challenge is open to all new and existing Pangarap Savings account holders ("CLIENT") whose accounts are active.
Promo period is from March 1, 2021 to May 31, 2021.
All deposits must be done through any Bangko ng Bayan (BNB) cash agents during the promo period to qualify for the promo.
Clients earn a raffle entry for each deposit transaction they make during the promo duration.
Raffle: Fifty (50) lucky clients will win P500 (tax free) each month from April to June 2021. During the grand draw on June 2, an additional ten (10) lucky winners will win P1,000 (tax free), five (5) lucky winners will win P2,000 (tax free), and one (1) lucky winner will win Vivo Y11 and RMB merchandise during the grand draw on June 2, 2021
| | | |
| --- | --- | --- |
| Winners | Prize | Draw Dates and Time |
| 50 | P500 | April 2, 2021 (Friday), 4:00 p.m. |
| 50 | P500 | May 4, 2021 (Tuesday), 4:00 p.m. |
| 50 | P500 | June 2, 2021 (Wednesday), 4:00 p.m. |
| 10 | P1,000 | June 2, 2021 (Wednesday), 4:00 p.m. |
| 5 | P2000 | June 2, 2021 (Wednesday), 4:00 p.m. |
| 1 (Grand Winner) | Vivo Y11 and RMB Merchandise | June 2, 2021 (Wednesday), 4:00 p.m. |
Clients will only win once per draw dates. Clients can win again on the next draw dates.
Clients must be active and in good standing. Clients must pass the eligibility and due diligence policy of the BANK, and are not under investigation due to suspected fraudulent and/or suspicious activities, and have not violated any of the General Terms and Conditions governing the deposit account.
Clients can make as many deposits as they wish in order to earn more raffle entries and increase their chances of winning.
Clients can consider their transaction code printed on their receipt as their official raffle entry. However, winners will be announced based on the name of the client.
The raffle draw will be held inside the Rizal MicroBank (RMB) Head Office at 3rd Floor, Anda Rizal Center Anda cor. Rizal Streets, Brgy. 3-A, Davao City. At least two RMB officers and a DTI representative will be present at the raffle draw.
Winners will be announced at the RMB online website and BNB's official FB page (@BangkoNgBayanPH). Winners will also be notified by the BNB cash agent where the client participated in the promo thru SMS and phone call.
The grand winner can claim the Vivo Y11 and RMB merchandise to the nearest Rizal MicroBank branch within 60 days upon receipt of an official text and call from the BNB cash agent. The grand winner must submit one (1) valid ID and the official text from the BNB cash agent to claim their prize.
            Lost Vivo Y11 are not subject to replacement when it is lost due to no fault of the bank.
The cash prize will be credited to the client's nominated Pangarap Savings account.
Product prizes are non-transferable and non-convertible to cash.
In case of dispute related to the promo, the BANK's decision, in concurrence with the DTI, will be deemed final and non-negotiable.
Employees of RMB, its BNB cash agents and their relatives up to the second degree of affinity and consanguinity are disqualified from joining the raffle promo.