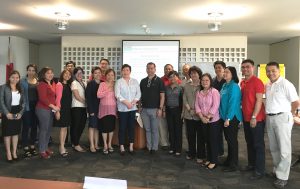 In October 2016, Rizal MicroBank (RMB) held a strategic planning activity in order to preserve the gains it has achieved since it started its operation in mid-2010. The activity, which was facilitated by Institute of Corporate Directors (ICD), was attended by all the members of the Board of Directors and the senior management team.
The said event served as a venue for the members of the Board and the senior management team to collectively formulate a charter statement (vision, mission and corporate values) and a strategic plan for the next five years to ensure RMB's sustainability and readiness for future growth. RMB has adopted and created an acronym MICRO for its five core values (Malasakit, Integrity, Commitment, Resourcefulness and Oneness), true to its commitment to support the micro, small enterprises and agricultural market segments that the bank is mandated to serve.
With the charter statement in place and a strategic plan drawn up based on an enhanced business model that is responsive to the financial needs of its target market segments, RMB has envisioned to grow its loan portfolio by at least Php5 Billion by end of 2022. Moreover, it is targeting to register an active borrower base of at least 10,000 as well as post excellent returns for its shareholders.