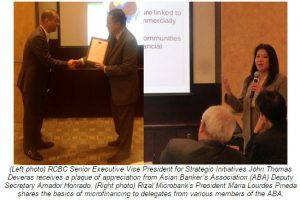 Understanding a market's culture and using the right technologies can help create a successful microfinancing strategy. This was shared by Rizal Commercial Banking Corporation (RCBC) Senior Executive Vice President for Strategic Initiatives John Thomas Deveras to delegates from various members of the Asian Banker's Association (ABA) during the two-day Microfinance Appreciation course conducted by Rizal MicroBank, the microfinancing arm of RCBC.
Held at Fairmont Hotel in Makati City, the microfinance course took the bankers from Bhutan, Iran, Sri Lanka, Thailand, and Vietnam through a series of lectures which included Microfinancing 101 conducted by Rizal MicroBank President Maria Lourdes Pineda, and Credit Underwriting Approaches discussed by Rizal MicroBank First Vice President Raymundo Roxas.
On its second day, the participants visited Rizal MicroBank's Luzon area office in Tanauan City, Batangas and interacted with its clients who included owners of microbusinesses such as cellphone shop, variety store, catering service, and a music school.
This is the second time that RCBC and Rizal MicroBank has conducted a Microfinance Appreciation course for member banks of the ABA. This workshop was also part of the ABA Short Term Visiting Program aimed at training member banks on specific technical skills and knowledge in various areas of banking of a host country.
Posted by RCBC Corporate Communications