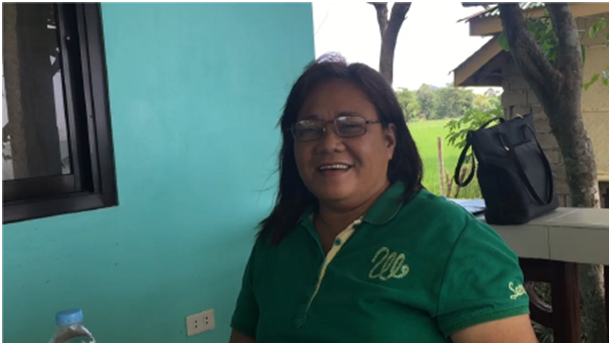 "RMB supported me in achieving my dreams."
MARYNOR D. JUANO
If there is a K12 Program for microenterprise operators, Marynor D. Juano, a valued client of Rizal MicroBank San Jose Branch is highly qualified to move up to Senior High School. Mrs. Juano's story of partnership with Rizal MicroBank dates back to 2009 when she first availed a Php 125,000.00 loan under the Bank's PITAKA Microenterprise Loan Program. To cut on some of the cost in her mini-restaurant business, Mrs. Juano tended a small poultry for her chicken supply. Because of good repayment record, Mrs. Juano had very fast and easy access to additional working capital whenever she needs it on a quarterly basis. Such that in a span of 2 and 1/2 years, she was able to avail of 10 loans totalling Php 1.475 million. Through the loans she availed from Rizal MicroBank, Mrs. Juano was able to expand and diversify her food business, and further increase her income-generating capacity. Other than the poultry project she was also able to add other livestock such as hogs and goats.
With her business relationship with Rizal MicroBank becoming well-established, it became easy for Mrs. Juano to approach the bank and request for a bigger loan amount, this time under the PITAKA FLEXI Loan Program (or the Regular Small Business Loan Product). In 2013, Mrs. Juano applied and was approved for a Php 1 million loan which she used to improve a vacant lot she owns and turned into a parking lot. But always the enterprising woman, she eventually decided to develop it into a resort which is known in San Jose, Occidental Mindoro as the "Holiday Ocean Resort." From the Php 1 million she initially borrowed under the Small Business Loan Product, she was able to put up one function hall and three cottages. Today, after getting four more loans under the same loan product, her resort now boasts of a bigger function hall, six additional cottages and three houses that provide ample rooms for guests. From the fruits of her entrepreneurial endeavors, Mrs. Juano was able to purchase an adjacent lot measuring 8,469 square meters. She is also in the midst of completing a 2-storey building project which will house her restaurant, a bakery and a mini hotel. And since Occidental Mindoro is predominantly an agricultural province, she has branched out into farm rental equipment by investing in three units of harvesters. Mrs. Juano came about this business idea when she invested in agricultural land. She is well aware that to be efficient in operating farms, she had to do it in a mechanized way, hence, the purchase and investment in farm equipment. And seeing that some farmers couldn't afford to invest in mechanized farming, she went out of her way to offer the services of her equipment on a rental basis.
For what she has become today as a businesswoman, Mrs. Juano could still not believe that she has turned her dreams into reality. But she says that the one thing that she strongly believes in her journey as an entrepreneur is the support and trust that Rizal MicroBank has extended to her through the years. Mrs. Juano repeatedly states that when other banks in the province approach her, she courteously tells them that her heart already belongs to Rizal MicroBank. She further mentions that when she was just beginning to dream, Rizal MicroBank was the first to trust her, and because of this, her loyalty is to the Bank. Mrs. Juano's story proves that with the right partner and nurturing, moving up into the next level is something that is very possible.