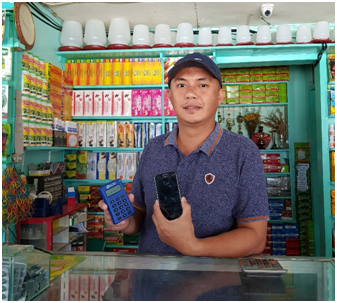 "Lumaki ang kita ng aking negosyo, dahil ako ay isang RCBC Cash Express Merchant Patner ni RMB."
JOHNNY JAY SANTONINIO
The Owners
Johny Jay Santoninio, 37 years old, is originally from Malaybalay City, Bukidnon, and currently resides at Halapitan, San Fernando, Bukidnon, with his wife, Shella F. Santoninio, 38 years old. Santoninio owns an agri-supply business for 10 years, Saint John Agri Supply, located at Halapitan, San Fernando, Bukidnon.
Shella, Santoninio's wife, is a public school teacher at Halapitan Central Elementary School for 15 years. The couple is blessed with two wonderful children; Jazrell Jade, 17 years old and, Jay Justine, 10 years old.
The Business
Saint John Agri Supply opened for business in February 2008 with an initial capital of Php 60,000 which Mr. Santoninio borrowed from his sister in law. The business is located at the heart of Halapitan, Bukidnon. Santoninio previously worked as an employee for the local government of San Fernando. When he got laid off from work he decided to venture into rice trading. From there onwards, Santoninio, became a full time businessman and trader, and gradually grew their business. He named the store St. John in reference to Pope John Paul II and which during that time the Catholic Church was transitioning and about to choose a new Pope.
The store is open from Mondays to Sundays from 7:00 AM to 6:30 PM. Their main clients are residents of San Fernando, Bukidnon, whose main sources of income are piggeries, game fowl breeding, and small scale backyard farming.

Santoninio is very hands-on with his business. He can be visibly seen attending to his store operations. His wife also assists him in record keeping and maintaining their finances.
As the business continued to grow, Mr. Santoninio acquired Elf and Forward trucks, service units, and CCTV cameras to ensure efficiency of their overall business operations. Mr. Santoninio manages the business with seven (7) paid employees.
RCBC Cash Express
Mr. Santoninio knows when to seize an opportunity when he sees it. This was exactly what happened when RCBC Cash Express was presented to him by RMB Valencia Branch Manager Toni Rose Eman and Business Advisor Sam Villamor back in August 2017. He got hooked with the unique product feature wherein anyone can withdraw cash without having to go to an available ATM. This presented a huge income potential for him since the municipality of San Fernando is located 67 km away from Valencia City, worth at least an hour's travel and PhP100 fare back and forth just to get to an available ATM machine.
His wife would constantly share to her coworkers at her elementary school about their available RCBC Cash Express service and also during DepEd trainings/meetings. Because of this, clients who are teachers, policemen and army personnel started doing transactions at his store. An effective marketing strategy which Mr. Santoninio did was in doing radio ads which until now is very popular with rural folks. The ad aired primarily for his business but the spiel also included inviting people to transact thru RCBC Cash Express.
On average he would get at least 20 RCBC Cash Express clients daily doing cash out transactions of at least PhP10,000 or more. He says this somehow contributed to an increase in foot traffic for his agri-supply store and a wider spread of new and potential clients for his business. He narrates that his store is becoming a "one stop shop" for the customers.
Challenges
A continuing struggle for rural areas is having a stable internet connection which leads to RCBC Cash Express transactions intermittently experiencing time outs. Carefully and patiently explaining to clients why this happened and reassuring them that the amount will be credited back to their account is a challenge, according to Mr. Santoninio. On a brighter note, he shares that transacting thru RCBC Cash Express allows you to have someone to ask for help as compared with individually transacting thru an ATM and experiencing these transaction errors with no one to assist or provide an outright solution.
Best Practice
For Mr. Santoninio, having the RCBC Cash Express has greatly improved his business. It now becomes hassle free for customers to get available cash doing away with an hour's travel just to get to an ATM. He says that in the future, a business anchored in technology will definitely have an edge as it continues to improve ourselves and the way we do businesses. There is a constant need to innovate and to get ahead. He says, "Kung luma ka, luma din ang iyong negosyo." So for him if at some point you encounter a unique and innovative way of doing something, one should always ask, "Why shouldn't we try it?"