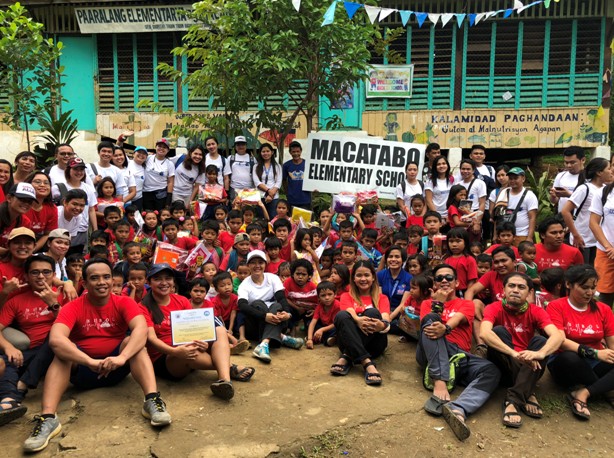 Committed to the Bank's advocacy of uplifting the community where the organization operates, Rizal MicroBank (RMB) conducted another corporate social responsibility activity last November 17, 2018. This outreach program was first initiated by RMB Valencia Branch Head, Toni Rose B. Eman and is in partnership with SIBOL, a non-profit mountaineering group.
Ms. Eman nominated Macatabo Elementary School to be this year's beneficiary of the corporate social responsibility program. This school, which is almost a two-hour drive and an hour-trek from the city proper, is located above the hills of Sitio Sumpitan, Barangay Tawan-tawan, Baguio District, Davao City. In spite of its location, Macatabo Elementary School has been the second home for a total of 84 students from the Manobo Tribe. The school has one school head and four public school teachers, who are considered heroes by the students as they trek daily to perform their roles as educators. While they do not mind the physical challenges of their profession, they admit that life is not easy in the area as their school is not accessible and only receives limited support from the local government unit and private sectors.
The challenges of the teachers and students are an inspiration for Rizal MicroBank to serve. The Bank did not hesitate to heed the call of providing "Malasakit" towards the community. RMB Leadership Team represented by Emelita B. Rocero, Head of Branches and Lending Operations, Niezl D. Gilvero, Chief Finance Officer, and Libertine B. Cubio, Mindanao Area Operations Head, together with other staff from Davao Head Office and Davao and Tagum Branches volunteered to facilitate a program to entertain the students and faculty. Meanwhile, SIBOL also conducted crash courses on Disaster Awareness, Family Planning and First Aid Application for the parents and guardians. At the end of the activity, the children flashed their innocent and genuine smiles as they received the school supplies and hygiene kits which were included in their wish lists. Seeing the happiness of the students, School Head Eugenio Lipumano got emotional as he expressed his gratitude to Rizal MicroBank.
It was indeed a fulfilling and heart-warming experience to interact with the community of Manobo Tribe and help improve even a bit their situation. RMB, together with its partner organization SIBOL, came out more energized and inspired rather than exhausted from the physically-engaging activity. Most of all, the outreach opened once again the eyes of the participants that beyond the confines of the corporate offices, there are lives of small people waiting to be touched. And in doing so, can make a difference in achieving simple dreams happen and making communities a better place to live in.
And so RMB says, until the next "Malasakit" activity!