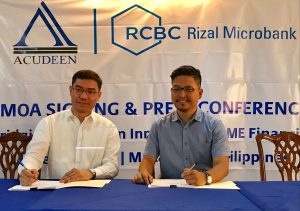 Rizal MicroBank and Fintech Acudeen Join Hands to Target the Unmet Financing Need of MSMEs
Access to formal financing services remains one of the most significant constraints for the survival, growth, and productivity of micro, small, and medium enterprises (MSMEs). Leading the way to bank-fintech startup collaborations in the Philippines, Rizal MicroBank (RMB) recently forged a partnership with Acudeen Technologies, a financial technology startup which enables MSMEs with less than three years of operations to convert receivables into cash, precisely to address this gap.
On June 23, 2017, RMB President Raymundo Roxas signed a deal with Acudeen Technologies CEO Magellan Fetalino III to support finance the invoices and receivables within the startup's network of MSMEs in the Philippines. Both companies share the same goal of financial inclusion among MSMEs, which they claim represent 99 per cent of all businesses in the Philippines.
Read more at: https://www.dealstreetasia.com/stories/500-startups-backed-acudeen-bags-6m-fintech-financing-deal-with-rcbc-75884/
For inquiries regarding this partnership, please contact Mr. Gerry John Albert at rizalmicrobank_csad@rcbc.com.